Lake County Rental Assistance Program
The Lake County Rental Assistance Program provides rent assistance for renters who faced financial hardship during the COVID-19 pandemic.
Please note: Lake County Rental Assistance Program providers will never ask for payment or fees associated with your application.
Who Can I Contact to Apply?
You can fill out the application online from Oct. 11 – Nov. 15, 2022. If you have questions or need help with your application, please call 211 or text your zip code to 898211 for more information and to be connected to a referral agency that can help.
You will need to fill out an application and provide evidence of your income and expenses. If you are approved, the money will be sent to your landlord.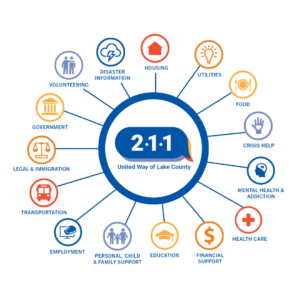 2-1-1 United Way of Lake County
Help Starts Here
211 is the place with the answers you need to live well in Lake County, Illinois.
211 is Lake County's free one-stop shop for help:
It's a telephone helpline.
It's a texting chatline.
And, it's this very website you're visiting right now.