TO SAY "I LOVE YOU!"
Try out some of these fun ideas to show your love!
There are two sides of love. One is giving, the other is receiving. Children sometimes show us their love when we're busy or angry, but we need to let them show it when they want to. After all, that's how we do it.
Children with brothers and sisters don't always understand that there is enough of their parents' love to go around in a family. Using candles, you can show how your love can be shared without it being diminished. Light one candle to represent Mom, and from that one light another for Dad. Then one for each child. Each flame is as bright as the others.
Let a hand puppet or stuffed animal talk for you, telling your child how much you love him or her, and nuzzling up to dispense kisses.
Do you have an "I Love You Up to Here" chart? It's a great way to mark your child's height periodically, on a door frame of a large piece of poster board.
Wake your child up with a kiss. What nicer or more loving way is there to start a day?
*taken from the book, 101 Ways to Tell Your Child "I Love You" by Vicki Lansky
---
TO MAKE YOUR CHILD FEEL SPECIAL
Every child loves to feel special. Try some of these ideas to show your child how much you care!
What words of encouragement can you share with your child today?
Way to go!
Awesome!
That's the best I've seen you do!
Good for you!
That's incredible!
Sensational!
What an effort you made!
I'm impressed!
You're something else!
*ideas taken from the book, 101 Ways to Make Your Child Feel Special by Vicki Lansky
---
TO SPARK CREATIVITY
These questions come from Q4KIDZ, a project of the nonprofit Parents Together.

Some tips from the author to help you make the most of these fun creative questions with your family:
Pick a time and stick to it – Do you have great talks in the car? Over dinner? Before bed? Choose a time that makes Q4KIDZ part of your daily routine, like brushing teeth (or negotiating over screen time :-).
Share it with friends and family – The more the merrier with Q4KIDZ. Try it with the kids in carpool or next time all the cousins get together – you're guaranteed to get some hilarious answers.
Ask follow up questions – Q4KIDZ are meant to ignite conversation and take your family discussions in all kinds of different directions. Ask lots of "whys" and "how comes."
It's about connecting. Connecting with our kids and connecting to other parents.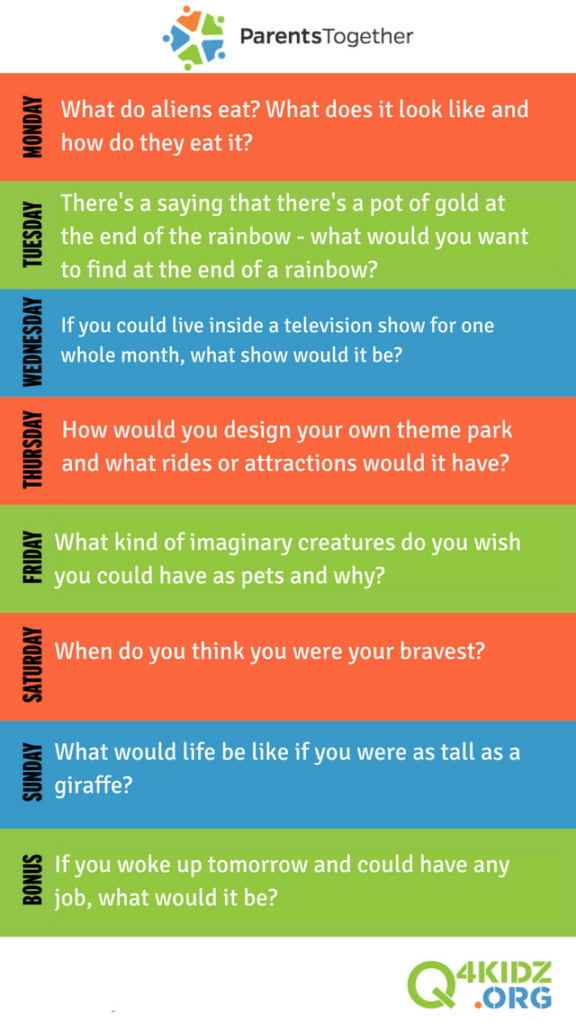 *used with permission from Nani Arreaza, Chief Question Officer at Q4KIDZ